An American mixed-media artist, Swoon is best known for her street art and socially committed projects. Guided by the belief that art is an immersive, provocative, and transformative experience for its participants, she produces life-size wheatpaste prints and paper cutouts of human figures which reflect her vision of the world.
The latest body of work by this humanitarian artist will soon be on view at Galerie LJ in her fourth solo show with the gallery. Simply titled New Works, the exhibition will feature a new body of works on mylar, wood, paper, as well as an interactive installation with her newest series composed of customized found jewel boxes offering tiny installations of artworks in 3 dimensions, such as a pop-up book.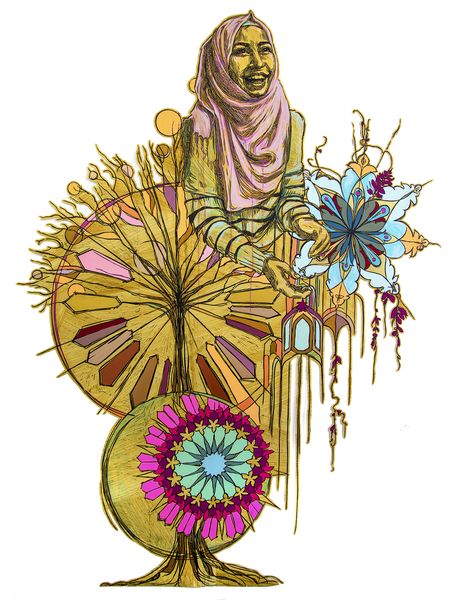 The Practice of Swoon
Working in a wide-ranging practice that includes installation and performance, Swoon creates illustrative portraiture which is often politically motivated. Working with a range of discarded objects as her surface, she produces large-scale images printed on recycled newspaper and glues using wheatpaste, playing with positive and negative forms in a conceptual exploration of the urban environments.
Through her practice, she merges art and activism with the intent of improving the world. She dedicates her life to travel and humanitarian and educational projects.
In 2014, Swoon launched her foundation, Heliotrope to gather the 3 non-profit projects she had founded and still runs – Braddock Tiles, Konbit Shelter and Music Box. With her work, she contributed to the reconstruction of New Orleans after Hurricane Katrina and Haiti after the 2010 earthquake.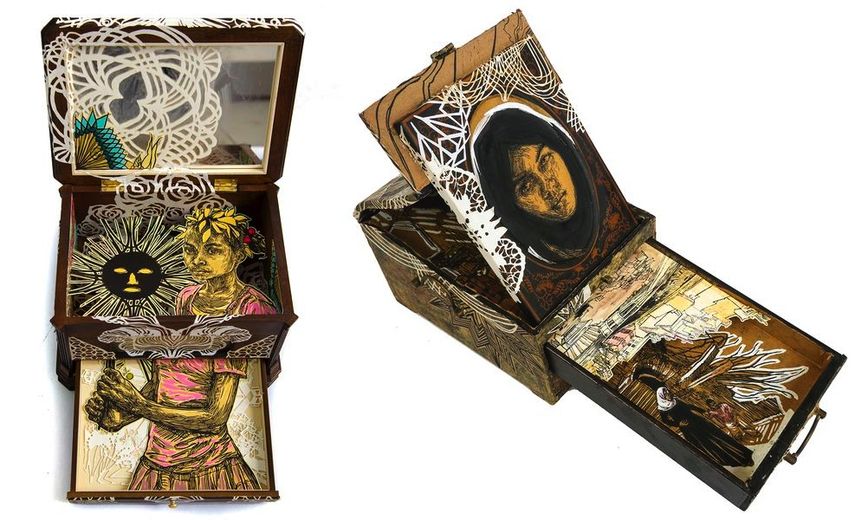 Portraits Which Tell Stories
The art of Swoon is a mixture of a range of influences, from German Expressionist prints, Egon Schiele, and Gustav Klimt to Alphonse Mucha, as well as Indonesian shadow puppets and the work of Gordon Matta-Clark.
Creating narrative portraits of the people she meets and the cities she visits, she tells a range of compelling stories to the public. These works can often be found as site-specific monumental installations in museums exhibitions.
Since the recent loss of her parents, Swoons focuses on more personal topics, such as identity, maternity, heredity, addiction, trauma, empathy, mysticism and spirituality, and catharsis of all these feelings through art.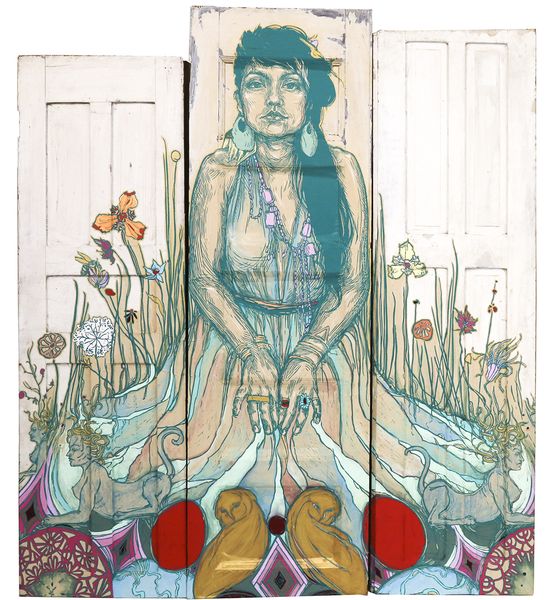 Swoon Exhibition at Galerie LJ
Swoon's portraits are truly powerful and compelling. They reflect a belief that our bodies and faces store all of our experiences and that a portrait can become a deep insight into those experiences.
The exhibition New Works will be on view at Galerie LJ in Paris from October 11th until November 24th, 2018.
Featured image: Swoon – Moni and the Sphynxes (detail), 2018. All images courtesy of Galerie LJ.