https://www.juxtapoz.com/news/painting/homecoming-new-group-show-by-swoon-andrew-schoultz-and-brendan-monroe-galerie-lj-paris/?fbclid=IwAR27UAj6XDCF8NHJrKSsgg9KT_u_SHu3oXWK0rgz13DyYANQmxHBgiglF70
"Homecoming" – New Group Show by Swoon, Andrew Schoultz and Brendan Monroe @ Galerie LJ, Paris
Galerie LJ holds their next group show, Homecoming, from May 4th to June 15th, presenting leading artists such as Brendan Monroe, Andrew Schoultz, and Swoon.
Homecoming marks Brendan Monroe's comeback to Galerie LJ, after dedicating these past years to public and private wall painting commissions, and the development of ceramic series only exhibited in Los Angeles and Tokyo until now.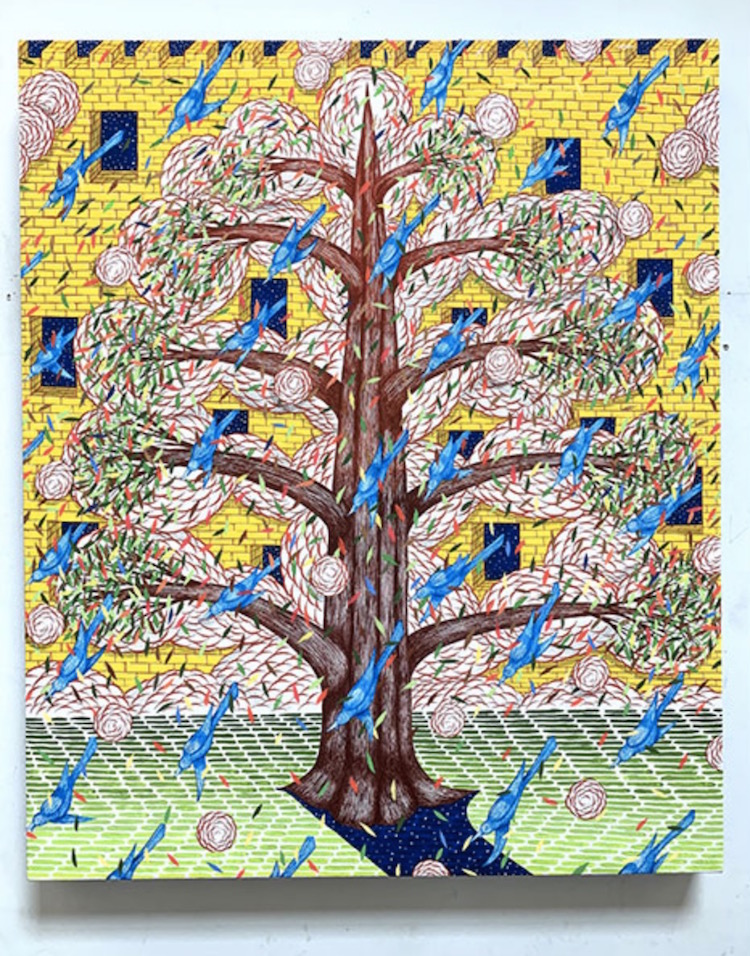 Homecoming also marks the return of Andrew Schoultz's latest series of paintings, 8 bright pieces of similar size on canvas recently exhibited in Hong Kong – Andrew's very first show in Asia – that reflect the elements of symbolical vocabulary characteristic of the iconography developed by the artist in his work, such as the lion (inspired by the sculptures of the Alhambra), the fortress, the tree, the starry night, the snake; as well as his latest optical researches, which he groups together under the "Spectrum" series.
Finally, in conjunction with her solo show that will inaugurate Fluctuart, the new art center dedicated to urban art in downtown Paris (May 28 – September 22, 2019), Swoon will show in Homecoming a series of works on wood and metal.